Since our June blog with our top ten restaurant recommendations in and around Ronda, we have diligently endured further dining out experiences on behalf of visitors to the town (such a hard life we have here!) and thought we'd share our latest discoveries with you. Without further ado, here are five more restaurants we highly recommend you eat at during your stay in Ronda:
1. Bar Andaluz, Calle Andrés Aguilar Gracián 2, Ronda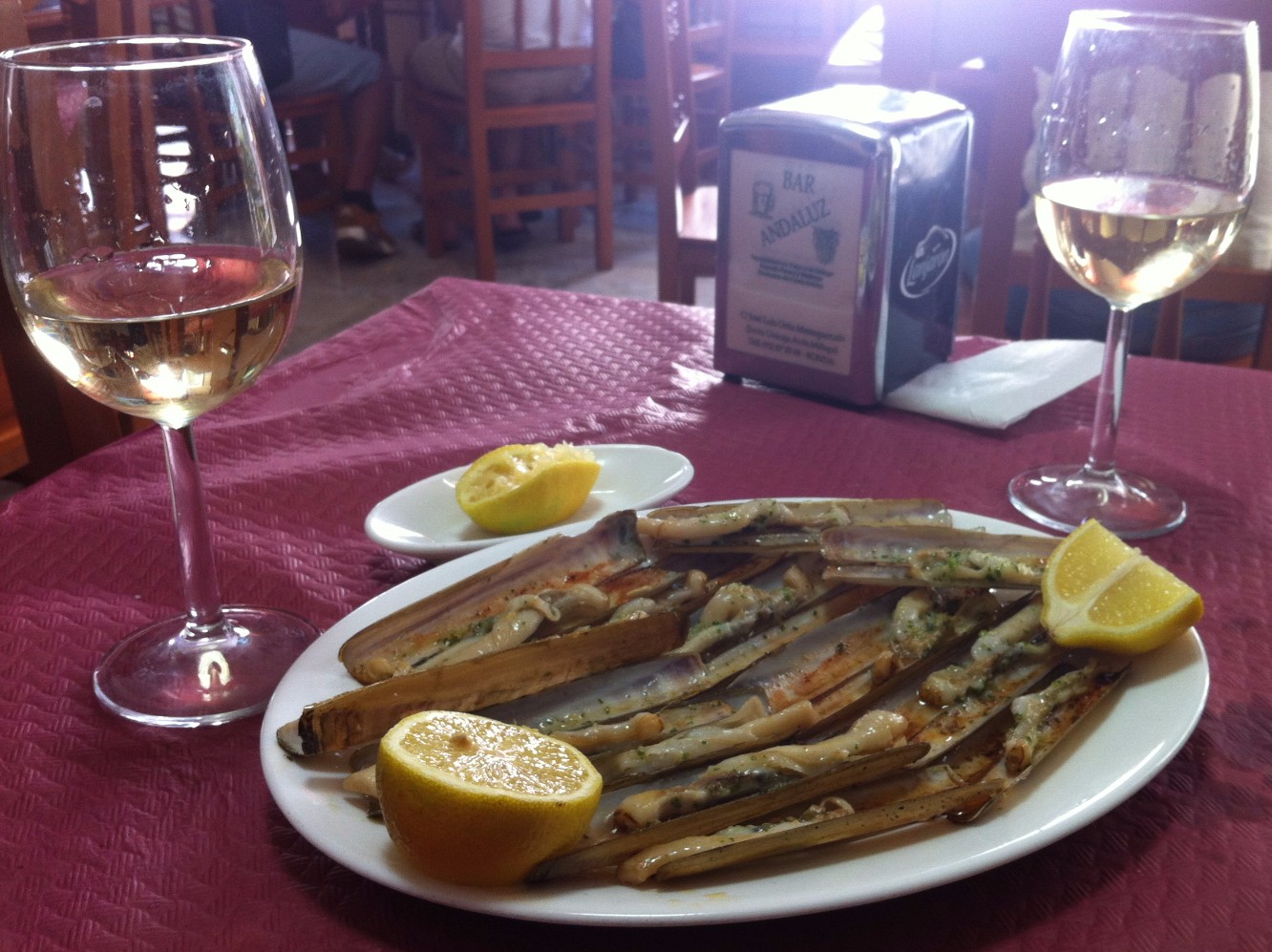 Tucked away in a side street off Avenida de Málaga is Bar Andaluz: an unpretentious restaurant with a relaxed vibe. Their tapas menu is extensive, but our recommendation is to sample the seafood. It is surprising to discover such delicious delicacies from the sea when we are an hour-and-a-half's drive from the coast, but Bar Andaluz buy the freshest every day and serve it with style.
Our favourite dishes to share, along with an icy cold beer or glass of white wine, are almejos (clams, served in a beer and garlic sauce), mejillón (mussels), concha fina a la plancha (grilled shellfish - seen above, with an onion and sweet pepper dressing), almejas de afeitar a la plancha (grilled razor clams - photo above, with a delicious buttery-garlic sauce) and pulpo (octopus - also above, with potatoes).
Bar Andaluz doesn't have a website and isn't on TripAdvisor, but is very popular with the locals (particularly on Saturdays), so we advise arriving earlier during the lunch opening times (i.e. at 1:30-2:00pm) to grab yourselves a table and settle in for possibly the best bivalved buffet you've ever tasted.
2. Meson Oñate, Calle Félix Rodríguez de la Fuente 9, Zahara
Just under an hour's drive from La Cazalla de Ronda is Meson Oñate: a traditional Andalusian restaurant with a magnificent view of the lake at Zahara de la Sierra (one of our five most picturesque towns to visit). As it's a focus of the village and meeting point for the locals, we recommend reserving a table on the terrace in advance so that you can enjoy your meal in the shade, with the breeze and that stunning blue view.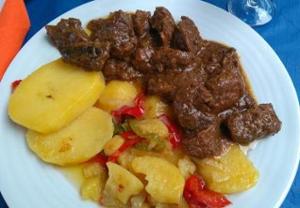 For authentic Andalusian fare, you can't beat Meson Oñate. Their rabo del toro (oxtail), carrillada de cerdo (pork cheeks) and jabalí en salsa (wild boar in sauce) are all thick stews with oh-so-tender meat that are typical of Andalusian cuisine and reflect back to past times within the region when there were periods of abject poverty. However there's nothing impoverished about the dishes served by the amiable staff at Meson Oñate - meal sizes are generous and stews come served with potatoes and vegetables (although we recommend not getting too excited about the vegetables - as in many restaurants in Andalusia, it's all about the meat!).
For a lighter bite, there's an extensive tapas menu and we recommend a local favourite: berenjenas fritas con miel (aubergine fritters with honey that melt in the mouth). Perfectly prepared paella is frequently on the specials board and we love to share this as a starter before savouring a stew or steak. With to die-for-desserts, great prices and that beautiful view, you can't go wrong dining here. Meson Oñate are open every day from 11am to midnight, so simply give them a call on 653 36 81 08 and reserve your table on the terrace (be prepared to speak Spanish!).
3. Restaurante Audalázar, Calle Nueva 4, Atajate
30 minutes' drive from La Cazalla in the quiet pueblo blanco of Atajate is popular Restaurante Audalázar. A favourite day trip of ours is to incorporate a stop at the restaurant with a drive through the beautiful lush Genal Valley. As the restaurant is seemingly always busy, we recommend reserving a table in advance and you can either dine inside or sit out on the pretty patio.
The menu consists of the usual traditional starters, meats and fish, but they also have a surprisingly good vegetarian selection (for a typical Spanish restaurants, that is). The Cazuela de Berenjenas (eggplant casserole) was rich and tasty, and we highly recommend ordering berenjenas fritas con miel (fried eggplant with honey) for a starter.
For meat-lovers however, you just can't go wrong with one of Audalázar's specialties: Pierna de Cordero al Horno (baked leg of lamb). This delicious dish must be ordered in advance, so when you call the restaurant on 952 18 50 27 to reserve your table, don't forget to place your leg of lamb order at the same time.
4. Restaurante Bardal, Calle Jose Aparicio 1, Ronda
In general we prefer to eat at more traditional restaurants with a local atmosphere, but a recent special occasion had us widening our gastronomic horizons at Restaurante Bardal, and it proved to be a real treat.
Experienced chef Benito Gomez offers diners a creative culinary experience, where he uses classic Spanish ingredients to design structured menus of around 16-21 dishes divided into 'acts and sequences of tastings'. There are two tasting menus, each with a fixed price (see their website here) and you can also opt for their selection of wines that perfectly accompany each choice.
The service, the combination of flavours, the presentation, atmosphere and decor all combine to provide a quality dining experience. It's not cheap, but it's perfect for a special celebration. The restaurant is closed on Mondays and reservations should be made by telephone to 951 48 98 28.
5. La Chocolaterie, Calle del Espinel (Calle de la Bola), Ronda
More of a café than a restaurant, but if you love chocolate, you have to eat at La Chocolaterie. As it is located on the pedestrianised shopping street in the centre of Ronda, you can combine a souvenir sweep with a sugar-fix.
True - there are lots of wonderful bakeries and cafés throughout Ronda selling delectable pastries and cakes, but the confections at La Chocolaterie are simply to die for. During the summer months you can cool yourselves down with an alcoholic ice cream; if you're here in the cooler winter months, you simply must have their hot chocolate - thick and creamy, and just the best we've ever tasted. Check out reviews from chocoholics on TripAdvisor for more information! Opening hours are daily from 9:00am to 9:00pm.
Of course, we feel the very best dining experience in town with the most spectacular view can be enjoyed right on the terrace at La Cazalla de Ronda, where we can organise anything from a simple traditional supper prepared by us, to a fine dining experience created for you by our private chef, or something in-between! We also recently had a flamenco group accompany Martin for a spectacular private party at the house. Whatever your preferences, if you have any questions or need additional information, we are here to help. ¡Buen provecho!