What does the word 'luxury' mean in 2018? Do we overuse this word, in the same way that the word 'awesome' is utilised so frequently that now everything is awesome? As we market La Cazalla de Ronda as a 'luxury villa rental', we thought we'd take a look at what makes an item or experience 'luxurious'.
The Oxford English Dictionary defines luxury as "A state of great comfort or elegance, especially when involving great expense; an inessential, desirable item which is expensive or difficult to obtain; a pleasure obtained only rarely". However, this definition seems a little out of date within a global society that now places a higher value on freedom, space, time, craftsmanship and experiences than the simple acquisition of goods. How often have you heard about someone that has given up their well-paid job to follow their dreams instead? Does something have to be expensive to be luxurious, or can it simply be a non-necessity that brings pleasure and happiness?
What is certainly true is that luxury is subjective, with each of us determining value with reference to our personal feelings, tastes and opinions. Rather than being constant and predictable, perceptions of value vary. To a busy mother, a luxury could be going to the toilet alone or (the height of luxury) to be able to relax for an unlimited amount of time in a bubble-bath. For a multi-millionaire, it may be an exclusive space, with no-one to encroach upon their peace and privacy.
So what do we think makes La Cazalla de Ronda a luxury villa rental? Through reading articles about what defines a luxury item or experience, we identified the following key words:
1. Space, seclusion, peace, privacy, tranquillity
In a busy and intrusive world, people increasingly value time and space for enjoying special moments and extraordinary experiences. The majority of our guests are families and groups of friends looking for a large home to spend relaxed time together, often to celebrate a special occasion.
"La Cazalla is a dream... surrounded by unspoilt countryside, oak forests, rivers and mountains" - Guests from August 2017 (TripAdvisor review)
With 13 acres of private land, six airy double bedrooms (all en-suite), three living rooms and dining spaces for 12 inside and out on one of the terraces, your family and friends will find plenty of space to relax during your stay at La Cazalla. From the house you can see only wooded hillsides and spectacular scenery - no electricity poles and cables, no phone signal towers, and it's pretty challenging to snoop on the neighbours. Don't panic - there's WiFi!
2. Comfort, elegance and quality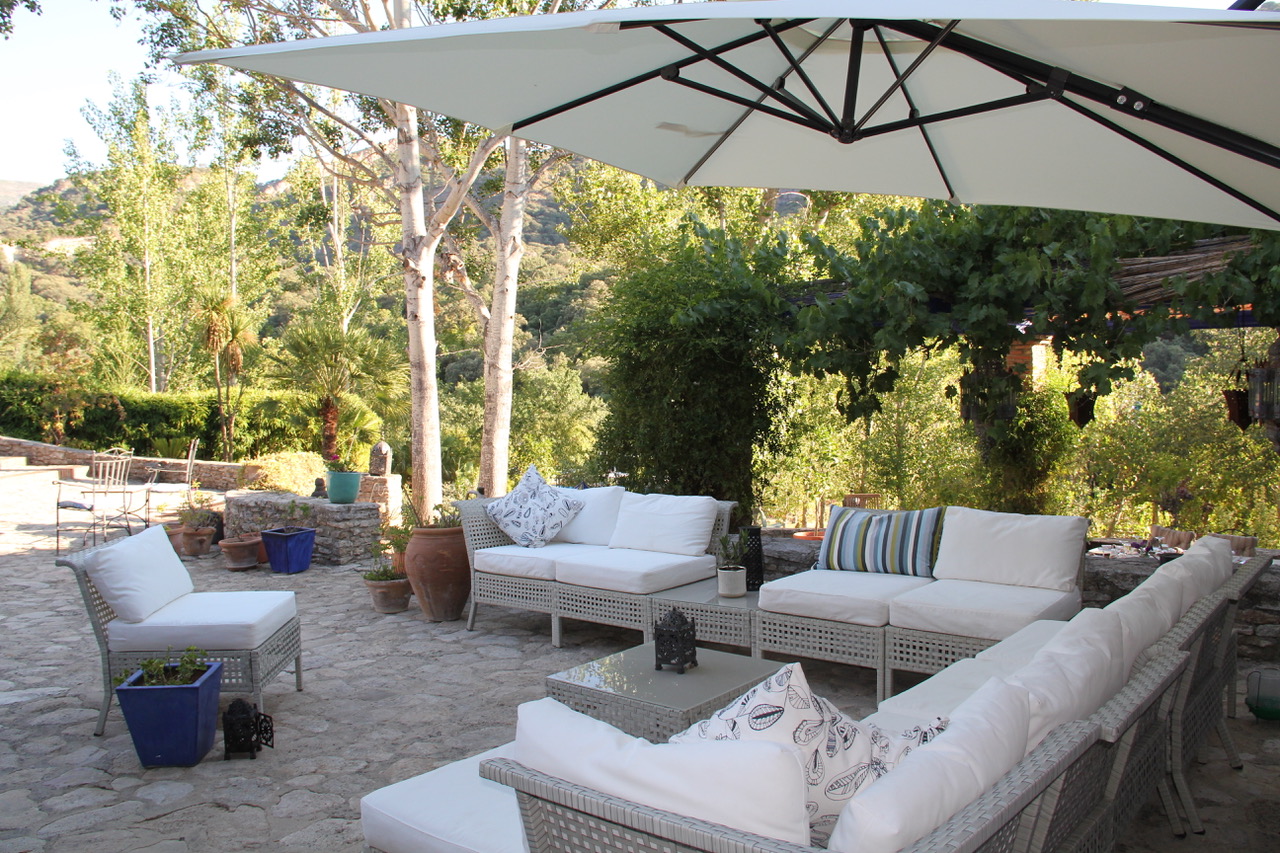 We feel that the photos above speak for themselves, but we truly do put a lot of thought and effort into making your stay with us as comfortable and pleasurable as it can be. Our soft sheets are high-quality cotton, the blankets made traditionally from the wool of 'free range' sheep at a 100 year old local mill, bath and pool towels are large and plushy, comfortable cushions are liberally distributed both inside and out, and cosy throws abound for you to snuggle beneath on cooler evenings.
"The villa was very spacious and comfortable. The setting is beautiful" - Guests from September 2015 (TripAdvisor review)
To maintain the quality of your experience, our housekeeper, Cristina, arrives discreetly every day to make those comfortable beds, clean the bathrooms, plump up the cushions, and generally keep the house clean and tidy. Manolo, the gardener, will clean the Romanesque pool and keep the terraces and grounds neat and orderly. La Cazalla is a secluded, completely private retreat, but with a few of the perks of staying in an hotel.
3. Craftsmanship, handmade, attention to detail
We are extremely fortunate to have thriving orchards, olive groves and vegetable gardens at La Cazalla, and we love sharing our bounty with our guests. Throughout your stay we leave little presents of our organic extra-virgin olive oil, homemade jams and chutneys, lavender sachets to send you softly to sleep, and nuts from our own trees. Herbs can be picked right outside the kitchen and you can help yourself to vegetables from the garden and fruit growing on the trees. Everything is grown organically right on the property.
In the bathrooms you will discover a variety of essentials from Molton Brown (London's bath, body and beauty connoisseurs since 1973), including delightfully-scented shampoo and shower gel. All of their products are cruelty-free.
To help you explore the grounds to their fullest extent and discover the local wildlife, we've had an artist draw a map for you.
And although the villa is technically a self-catering holiday rental, we are here to help you. We can provide a pre-shopping service so that you don't have to worry about food and drinks the moment you arrive. We can organise a wonderful private chef to cater for you, and a flamenco show at the house, should you so desire. In true concierge-style, tell us your wishes and we will do everything we can to make your dreams come true.
Is this luxury? We think so. How about you?