August is upon us in Andalusia, signifying sultry summer days and cool nights spent in the plazas with friends. The summer sunshine also means the ripening of fruits and nuts, and before we know it, it will be time for the harvest again. At La Cazalla we are lucky enough to be blessed with grapes, figs, blackberries, olives, almonds, pears, pomegranates, persimmons, quince and walnuts, and throughout Andalusia people will be harvesting this produce and more over the coming months.
1. The grape harvest in Andalusia
At La Cazalla we currently have just one very old vine sprawling over the pergola above the dining terrace, but plans are afoot to convert one of the meadows into a vineyard, so watch this space for developments! Our guests have already been enjoying the fruits of the vine recently, but during late-August/early-September the local vineyards will commence their harvests on a much grander scale.
There are at least ten wineries ('bodegas') within a 30 minute drive of our luxury villa La Cazalla de Ronda, and in Andalusia as a whole there are over 40,000 hectares of vineyards producing more than a million hectolitres of wine every year. Over half of the wine produced here is from four Denominación de Origen' (DO) areas (equivalent to France's Appellation d'origine controllée), although there are actually seven DOs in Andalusia. This diversity can be attributed to the region's three distinct geographical types, each providing unique climatic conditions for viticulture: the low valley area of the Guadalquivir river; and the two mountain ranges of Sierra Morena and the Cordilleras Penibéticas, high in the clouds. This, together with the fact that Andalusia's coasts are bathed by the Mediterranean Sea on the west and the Atlantic Ocean on the east, make this a land of contrasts and cultural richness.
We could devote a whole blog to describing the different types of wine produced under each DO (and will happily verify the quality of each, solely for the purposes of proper research, of course), but in this article, we'll stick to the basics. The main five DOs in Andalusia produce both table and fortified wines, although it's really the fortified wines that unite the various DO zones. These wines range from light and refreshing Fino and Manzanilla Sherry to full-bodied, lusciously sweet Pedro Ximenez 'PX'. Easily the most celebrated DO is Jerez, the historic port and home of Sherry, and the neighbouring seaside town of Sanlucar de Barrameda has carved out a reputation for its Manzanilla. Montilla-Moriles, the most northern of Andalusia's DOs, specialises in unfortified dessert wines made from Moscatel. Málaga and Sierras de Málaga, which occupy the same area but are separate DOs, produce sweet wines and dry table wines respectively. DO Condado de Huelva produce either young white fruity wines with a moderate alcoholic percentage or generous white wines (also known as liquor wines) aged for at least two years.
To celebrate this wonderful bounty, the Andalusians (who just love a party) hold dedicated 'Vendimia' Festivals throughout September. The biggest of these take place in Jérez de la Frontera and Córdoba, with traditional displays of bare-foot grape-crushing, flamenco and horsemanship, but closer to home in Málaga province is the town of Mollina's Feria de la Vendimia. Over the weekend of 8th to 10th September, the town celebrates the end of the grape harvest with wine-tasting, nightly parties, craft fairs and a bicycle ride through the town. There's also the exciting carrera de cintas (horse-riding competition where riders collect ribbons hung overhead). However, if you love wine and a party, and are taking advantage of our low-season short breaks, you may be interested to learn that nearby Atajate will have their wine festival (Fiesta del Mosto) on Saturday, 25th November this year.
Blackberries and more in Andalusia
Brambles (or blackberry bushes) can be found bordering many properties here and we have our fair share at La Cazalla. In fact, they are just beginning to ripen in the hot August sunshine and we are looking forward to making another batch of blackberry jam to share with our guests.
In Andalusia the ideal soil and climate conditions and the supply of good-quality water in the southern part of Huelva have led to a boom in this type of crop, and blackberries occupy around 160 hectares of the area. Huelva's main crop though are strawberries (5,400 hectares), with blueberries forming a close second (2,538), and raspberries coming in third being cultivated over 1,932 hectares. As the UK is currently Huelva's largest importer of their blueberries, there are concerns about the future of this valuable export post-Brexit and farmers in Huelva are currently boosting the image of this 'superfood' within Spain itself to promote growth in local sales.
Almonds in Andalusia
La Cazalla has around twenty almond trees on its property and they look set to provide us with a bumper harvest this autumn. As well as a wonderful source of nutrition for us and our guests, a visit to Andalusia in the spring is well worth it just to see the beautiful pink-and-white blossom covering the countryside.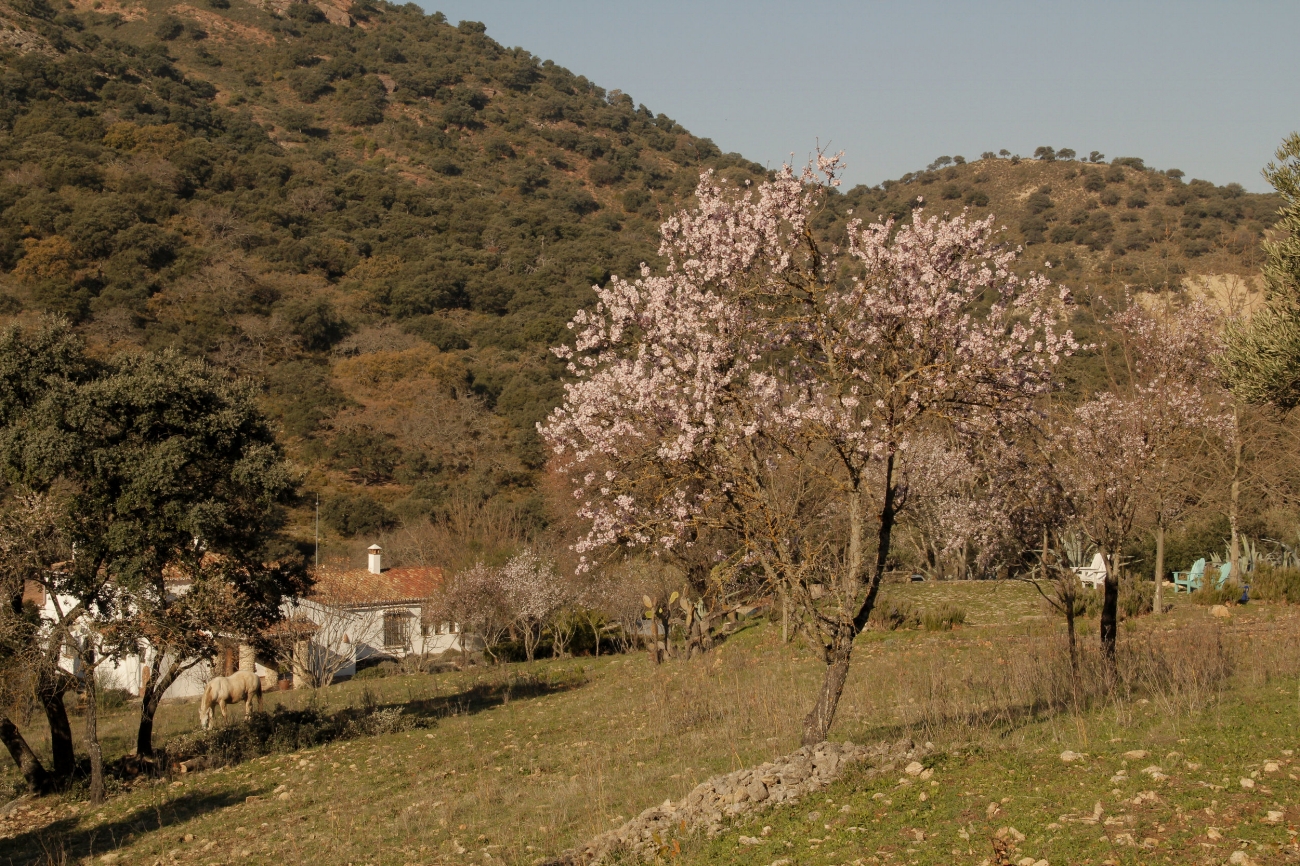 Spain is the second-largest almond producer in the world (13% of annual production) after the United States (over 40% annually) and relies on Andalusia and Valencia as its main producing regions. Almonds are a great source of vitamins and minerals – rich in calcium and vitamin E - are high in protein and cholesterol-free fat, and are credited with reducing heart attack risk, protecting the artery walls, lowering blood sugar, aiding weight loss, building strong teeth, aiding brain function, moderating the nervous system and supporting the immune system. All this and free from a tree.
The harvest will begin in late-September or early-October and traditional methods are used in many areas. We harvest them by hand at La Cazalla, utilizing the same methods as for our olives: spreading nets beneath the trees and using long sticks to vibrate the branches, shaking the nuts into the nets. And then yes, we really do crack each and every one by hand!
November to January harvests in Andalusia
Hot on the heels of the almond harvest comes the time for our favourite product, if not our favourite produce to harvest: the olives for our organic extra-virgin olive oil. We harvest these by hand using the same method as for the almonds, but boy are they buggers to dislodge from the trees! You can read all about our harvests and the outstanding olive oil of Andalusia in other blogs of ours here. Despite the hard work, when we dip our bread into that delicious liquid gold, we know it was worth it.
During these late-autumn/early-winter months the remainder of our fruit ripens into readiness for picking. We have to be watchful over the delicious, succulent pomegranates, as they are a favourite of many of the smaller birds we see in the valley. Obviously the birds are also aware that pomegranates are one of the healthiest fruits you can eat, as they are loaded with antioxidants and packed with vitamin C and potassium.
The ancient city of nearby Granada was renamed after the fruit during the Moorish period and today the province of Granada uses pomegranate as a charge in heraldry for its canting arms. In fact, in Spanish the word for pomegranate is "granada" (although "granada" also means grenade or hand grenade, so take care what you're ordering!).
Unfortunately, we have yet to find a recipe for them that will enable us to preserve them for sharing with all of our guests no matter what time of year they visit, so if you wish to enjoy these juice-packed fruits straight from the tree, book your stay for November or early-December. We are fortunate to have a mixologist in the family and are particularly keen for him to try out Pomegranate Cosmopolitans on us... we'll keep you posted on the results!
The persimmons (also known as sharon fruit) we have to protect from an entirely larger beast altogether: Oberon - our rescued horse/unicorn. When Oberon was brought across the river from his lonely life in the oak forest, the first things that astonished him were the abundance of grass and a certain sticky, sweet red fruit hanging from the trees like Christmas baubles.
Persimmons ("caqui" in Spanish) flourish in Huelva and are also terribly good for you, containing vitamins, minerals and antioxidants, but they are also terribly difficult to work with! They are only good when they are absolutely ripe, which means their insides have obtained a custard-like consistency (the best way to eat them is actually to remove the top and scoop out the innards with a spoon, like eating a boiled egg). Allow one unripened persimmon to sneak into your chutney or jam, and the whole lot will have an entirely different and unpleasant flavour. Also, have you ever tried peeling and de-seeding something that has the consistency of a trifle?! Last year one of us almost had to be sedated after hours spent attempting persimmon chutney - the test batch was very tasty, but unfortunately no-one volunteered to embark on the scale of chutney-production required for sharing with our guests. Maybe this year, eh?
Pears and Quince in Andalusia
Along with a number of other fruits, pears ("peras" in Spanish) were introduced into Andalusia by the Moors when they invaded early in the 8th century. They have now become an important export for the region, with Andalusia shipping 5,176 tons during 2015. We are operating on a somewhat smaller scale at La Cazalla and have... five trees. However, it never gets old being able to walk out into the garden and simply pluck the fruit from trees that have not been treated with pesticides or even fertilizer. Well, except for a bit of natural fertilizer produced by Oberon, and ashes from the log fire in winter.
Similar in appearance to pears, but with a very different flavour are our quince, of which we have 10 trees. Spain is one of the leading growers of quince, producing around 15 million kilos a year, and there are three main regions: Extremadura, La Mancha and our beloved Andalusia. Quince ("membrillo" in Spanish) have a very aromatic, yet sour and bitter taste when eaten raw, and have hard flesh, and are therefore not a fruit to be enjoyed straight from the tree. With last year's crop we made quince paste, which is highly popular served with meat or cheese here in Andalusia, but you can also make pies for deserts or eat them with honey, as the Romans did. Again, a visit during late-Autumn or early-winter will give you access to fresh fruit, straight from the trees.
Nuts, nuts and more nuts
Almonds we've talked about already above, but walnuts and chestnuts are of equal importance here in Andalusia and feature in the local September to December harvest. We have a few wonderful walnut trees at La Cazalla, but actually Spain is the third largest producer in the European Union. There are over 15 varieties of walnut, but it is the common walnut that is most frequently found here and the main growing regions are Galicia, Catalonia, Extremadura and... yep, you guessed it: Andalusia. Only a small proportion of Spanish walnuts are exported, as local demand is very high. The controlled cultivation of walnut trees has increased in recent years, but most Spanish walnuts are still obtained from naturally-propagated trees like ours and when harvested, nuts are either collected from where they have fallen or beaten from the branches with long poles. Harvest time certainly is perfect for venting a little frustration!
For a visit to Andalusia accompanied by spectacular autumn colours, you can't beat late-October/early-November, when the chestnut trees put on their red-golden display. The sweet chestnut was introduced into Europe from Sardis, in Asia Minor. It has been a staple food in southern Europe for millennia, largely replacing cereals where these would not grow well, if at all, in mountainous Mediterranean areas, such as the Serranía de Ronda. It's wonderful to view the colour change as you drive up from Málaga. As the land is a little drier towards the coast, we always experience delight as we climb higher into the mountains and are greeted by greenery, but during autumn this green is speckled with reds and golds... and is just fabulous.
If you'd like to learn more about autumn or winter visits to Andalusia (when the sunshine still shines and the temperature averages 15 degrees Celsius), simply drop us a line and we will be delighted to assist you.