With its roots entwined with the Roman and Moorish cultures, the cuisine in Andalusia is rich and varied. The region's invention of tapas created not just a different style of meal, but an alternative, fun way to dine out. As many restaurants are so reasonably priced, a preferred evening out here is to enjoy these small dishes (a little taste of this, a little bite of that) in a variety of bars and restaurants, socialising with friends and family, discussing the weather and catching up on the latest gossip.
Olive oil, jamón serrano (cured ham - pretty much an art form in Andalusia) and fresh, local produce are the main staples and, even away from the coast here in Ronda, seafood is carefully selected and presented in a variety of deliciously different dishes. A glass of locally-produced wine, tinto de verano (refreshing red wine with ice and soda/lemonade) or beer are the perfect accompaniment to your taste of Spain. Here are our ten favourite restaurants for enjoying during your stay at La Cazalla.
1. Casa María
Ranked #2 on TripAdvisor, Casa María absolutely deserve their 2,000 five-star reviews. Creating their ever-changing menu from the best and freshest produce available on the day, María and her family combine an excellent, friendly service with innovative and authentic dishes. Dining is simplified by the lack of menu to decipher and select from: simply sit back, relax, and allow these local specialists to serve you 5-6 well-proportioned courses of the most delicious dishes of the day, including the local wines that best accompany them.
Dine inside or al fresco in the picturesque Barrio San Francisco plaza and delight in creations such as truffle, jamón, egg and potato mash, melt-in-the-mouth crispy tuna with a vegetable salad, local goats cheese with strawberry coulis, cured cod, and sirloin steak cooked to perfection. Just be sure to leave some space for their to-die-for desserts. Reservations are strongly recommended, as this restaurant is popular with both locals and visitors.
2. Almocábar
Across the plaza from Casa María in Barrio San Francisco is Almocábar, a restaurant stylishly-furbished with a Moorish theme. Their attentive and cheerful staff will deliver mouthwatering plates of authentic Andalusian food with a flavoursome twist, such as pil-pil with langoustines, confited leg of goat with rosemary, duck, partridge, and their highly-rated garlic soup (you have to try it!). Tapas is also available in their friendly bar area. It's a small and very popular restaurant, so make your reservations in advance for a delicious dining experience.
3. Bar El Convento
Tucked away within the residential streets of Barrio San Francisco, next to the old convent, is Bar El Convento: a favourite restaurant that's small in size, but BIG on flavour and presentation. We love the quirky interior, with its varied art, musical instruments, and the train that runs on its track around the ceiling whenever the bar reaches a certain financial goal for the evening.
Their welcoming team will bring you incredibly reasonably-priced, tasty tapas presented with such artistic style you can hardly bear to break them apart. Feast with your eyes and tastebuds on tapas such as Corazon de Vieiras (scallop and prawn), Graten de Patatas, and the oh-so-delicious Rollito de Pollo (a succulent chicken roulade). Friday nights, accompanied with 80s music, are particularly popular with Rondeños, so either arrive for their opening at around 8pm, or wait until 10pm when a second-sitting often becomes available, as the early-birds head off to 'tapear' in another location.
4. De Locos Tapas
Located just inside the historical Puerta de Almocábar, wildly-popular De Locos Tapas specialises in modern-style Spanish and international tapas. Reservations are a must, as space is limited at this popular restaurant run by Basque chef, Guillermo. Enjoy his creations of smoked duck breast with quince jelly and pork cheeks, tuna tataki, and mouthwatering lamb tangine.
5. Venta el Molino
Without a website or official Facebook page, these guys truly are a local secret. Off the beaten track just outside of Ronda on the A-6300 to Cepsa is Venta el Molino: a no-frills restaurant set in a quiet country location, with excellent cuts of meat deliciously barbecued and rapid service. At around EUR20 per person for a three course meal with cervezas, the price is pretty tempting too. Start with authentic Andalusian gazpacho (so cooling in the summer months!) followed by a meat dish from the barbecue, such as pork with Roquefort, and finish with the locals' favourite: flan.
6. Bodega San Francisco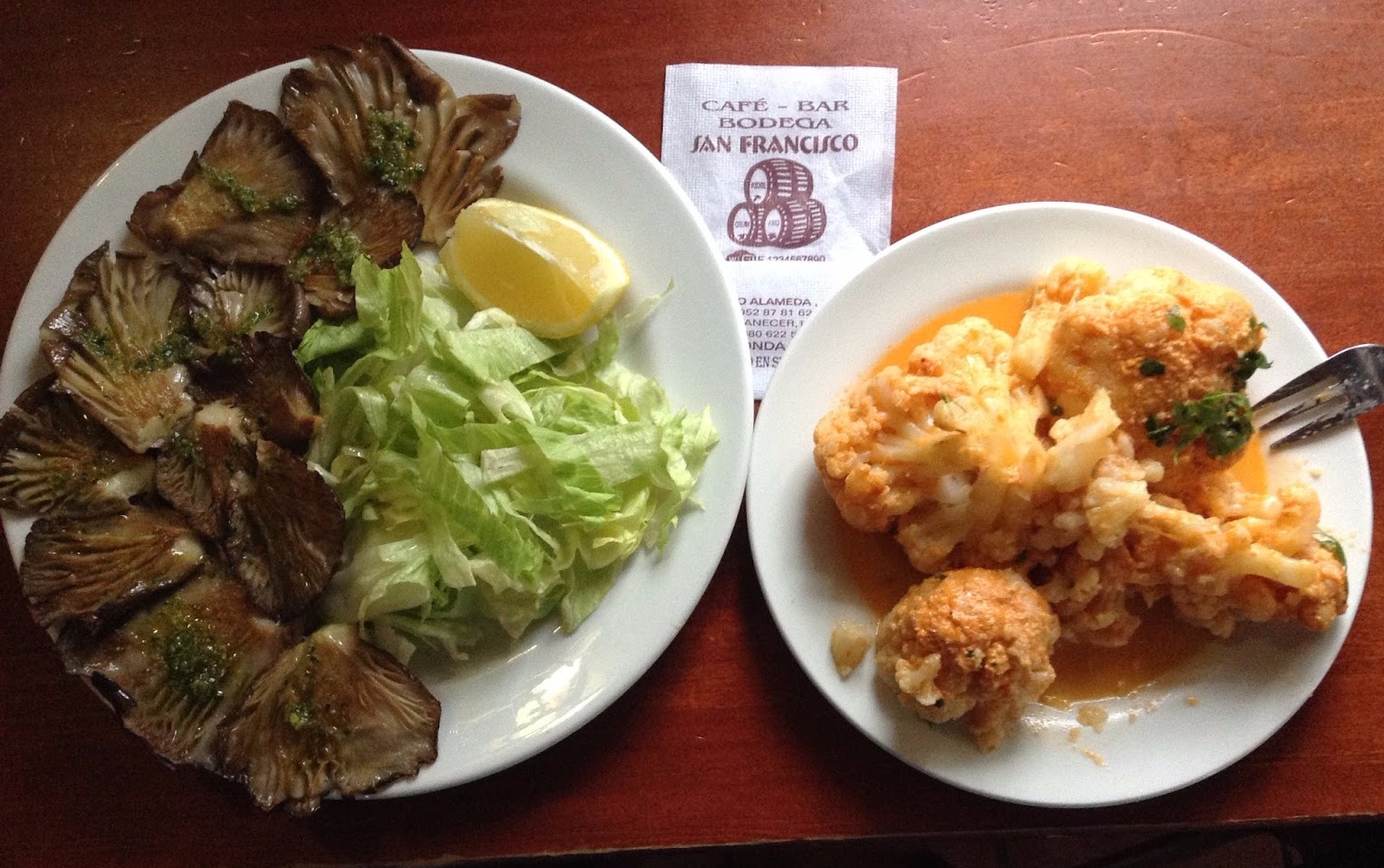 Just up the road from La Cazalla is Bodega San Francisco: an authentic Spanish bar; always busy and with a great atmosphere. Their location in the breezy, tree-shaded plaza next to the Puerta de Almocábar makes them the perfect place to refresh yourselves after enjoying one of our recommended walks around Ronda. Sit outside in the plaza or admire the hanging hams inside while you nibble on their wide range of tapas, raciones and grilled meats. The prices are excellent too - don't be surprised if you've had several tapas and a glass or two of their locally-selected wines and your bill is less than EUR10.00.
7. Bar de tapas Camelot
If you're popping into Ronda town centre for some shopping on pedestrianised Carrera Espinel (known as 'Calle de la Bola' - a nickname so entrenched that many here seem not to know where Carrera Espinel is...), we recommend leaving your car in the central car park on Calle Comandante Salvador Carrasco so that you can taste some tapas when you are tired of the tiendas (or, if you're less inclined towards shopping, wait for your friends and family there!).
This busy tapas bar and restaurant on the corner sees a constant flow of Rondeños stopping by to meet with friends, enjoy una caña (a 'little beer') or two with a few tapas, before sweeping off to their next stop for the day. The bustling and unpretentious scene, accompanied by tapas favourites such as croquetas, mini-hamburguesas and surprising selection of fresh seafood, makes for a perfect pit-stop, and at around EUR1.00 per caña or tapa, the reasonable prices are a soothing balm to the wallets of those who may have enjoyed their souvenir shopping a tad too much. It's a super-popular bar, so be prepared to be patient with the persevering staff - simply sit back and relax, and pass the time with a little people-watching.
8. Restaurante Casa Grande, Alpandeire
Whether you wander to picturesque Alpandeire via one of our recommend walks or take a 30 minute scenic drive to the town, we highly recommend factoring in a meal at Restaurante Casa Grande. Sequestered beneath the vaulted ceiling of its converted stables with their cool stone walls, you will enjoy a warm welcome accompanied by authentic Andalusian dishes given a trendy twist. Everything is cooked to perfection, and you can choose from a variety of salads and entrees, including vegetarian cuisine, regional dishes, grilled meats or oven-roasted Iberian pork, beef, venison, duck, suckling pig, or lamb, and finishing with a homemade dessert. Oh - and when they offer you a digestif, if you like rice pudding be sure to sample their rice digestif, especially combined with the coffee liquor. Somehow we often seem to end up taking home a bottle or two... Reservations are recommended.
9. Restaurante Asador el Muelle, Benaoján
Simple and succulent are the words that spring to mind when thinking of Restaurante Asador El Muelle at Benaoján train station. Their Arabian oven produces the most perfectly-cooked meats in town (take a look at the oven behind the bar when you go in, the exterior of which you can see to the left of the entrance). Alongside their Arabian meats, they offer stews, fish, sausages, cheeses and quality wines.
For such a popular and busy restaurant (reservations recommended), the service is attentive and friendly. You can wander to the restaurant from La Cazalla, take the train to and from Ronda (latest return just before 5pm), or opt for the 30 minute drive through rugged mountain scenery.
10. El Muelle de Arriate
Not to be confused with El Muelle at Benaoján station, dining at El Muelle de Arriate is an entirely different experience you will love. You will be welcomed at the door by owner Frank, who will sit with you to discuss your preferences and thoughtfully guide your choices, and who will continue to humorously entertain you at unobtrusive stages throughout your meal. The food is exquisitely presented and cooked to perfection, and the service attentive but relaxed (the restaurant is well-deserving of their 378 five-star reviews). It's a little pricier than our above recommendations, but the experience is a real treat, so go ahead and make your reservation for that special occasion during your stay with us. The restaurant is an easy 25 minute drive from La Cazalla, although Frank or our team will be delighted to organise taxis for you.
Of course, we feel the very best dining experience in town with the most spectacular view can be enjoyed right on the terrace at La Cazalla de Ronda, where we can organise anything from a simple traditional supper prepared by us, to a fine dining experience created for you by our private chef, or something in-between! Whatever your preferences, if you have any questions or need additional information, we are here to help. ¡Buen provecho!